Our company
Ring Specialty Chemicals is dedicated in Chemical sourcing and supplying. As a chemical trading company, we work closely with qualified manufacturers who consistently demonstrate a high degree of product quality, service and reliability. With our labs in China, we also provide custom synthesis service.
●We focus on meeting the needs of our customer.
●We value its longtime supply partners and are continuously looking to expand its product portfolio with reputable International Companies to meet its ever increasing customer base.
RSC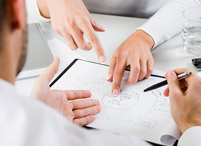 To successfully serve our customers, we use "RSC" as our guide to build and earn our reputation as a trustworthy partner.
Responsibility: We are responsible and are held accountable for our customers, fellow workers, the environment and the society.
Safety: We will manage our business to ensure that recognized safety and environmental standards are met or exceeded. We know the safety of our employees, customers and the general public is of prime importance to us.
Commitment: Our team is committed to customer satisfaction and the highest standards in all we can do. We strive to supply cost-competitive chemicals and provide solutions seven days a week.
The above three add up to the formula for opportunities for growth and continued success for Ring Specialty Chemicals, Inc. as well as for our customers.